Anita Page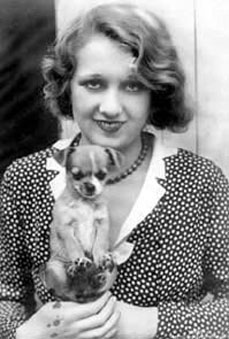 AKA
Anita Pomares
Born:
4-Aug
-
1910
Birthplace:
Flushing, NY
Died:
6-Sep
-
2008
Location of death:
Los Angeles, CA
Cause of death:
unspecified
Remains:
Buried, Holy Cross Cemetery, San Diego, CA
Gender:
Female
Race or Ethnicity:
White
Sexual orientation:
Straight
Occupation:
Actor
Nationality:
United States
Executive summary:
The Broadway Melody
Anita Page was a gorgeous blonde who achieved stardom in the silent era, then made the tricky transition to talkies. She was only an extra in her first film,
A Kiss for Cinderella
, made in 1925 when Page was 15. Within a few years, though, she worked her way to leading lady status, starring in
Sam Wood
's now-lost
Telling the World
, playing
Joan Crawford
's backstabbing flapper friend in
Our Dancing Daughters
, and sparking police detective
Lon Chaney Sr
's romantic interest in the action-packed
While the City Sleeps
. Her first talkie was
the
first all-sound feature-length musical,
Broadway Melody
with
Bessie Love
. It was a huge hit, spawning numerous sequels and rapid sales of sheet music, and the most popular song from the film was "You Were Meant For Me," sung by Page and actually written for her by composer Nacio Herb Brown. The song is still a standard, and has been covered in recent years by
Sting
and
Jewel
, among others. Brown was briefly married to Page several years later, and he is best known for writing another memorable tune, "Singin' in the Rain."
Broadway Melody
was Page's most famous film, but she gave her best performance as the outspoken prostitute who serviced
Jean Hersholt
in the risqué pre-code drama
Skyscraper Souls
. She had other successful films, but after having the temerity to ask for a raise she was assigned smaller and smaller parts. When she met the man who would be her second husband, Navy Admiral Herschel House, Page left show business. They newlyweds settled in Coronado, California, where Page and House remained happily married until his death in 1991. Through her long retirement from films, she made occasional appearances at screenings of her old films, and in 1996 she was lured from retirement to appear in
Sunset After Dark
with former child star
Margaret O'Brien
. Page subsequently appeared in several more low-budget films, including
Bob's Night Out
with
Tommy Bond
, who had been one of the
Little Rascals
in the 1930s. During her time as a major star, Page was romantically linked to
William Haines
, her co-star in six films, and to Hollywood's silent-era
Ben Hur
,
Ramon Novarro
. Both men proposed marriage to Page, both were spurned, and both men were later revealed to be gay.
Father:
John Pomares
Mother:
Helen Pomares
Brother:
Mario Pomares
Boyfriend:
William Haines
(actor, dated 1928-29)
Boyfriend:
Ramon Novarro
(actor, dated 1929-30)
Husband:
Nacio Herb Brown
(songwriter, m. 1934, div. 1935, d. 1964)
Husband:
Herschel House (businessman, m. 1937, d. 1991)
Hollywood Walk of Fame
6104 Hollywood Blvd.
FILMOGRAPHY AS ACTOR
Jungle Bride (10-Jan-1933)
Skyscraper Souls (16-Jul-1932)
· Jenny
Night Court (23-Apr-1932)
· Mary Thomas
Are You Listening? (26-Mar-1932)
Under Eighteen (24-Dec-1931)
Sidewalks of New York (26-Sep-1931)
· Margie Kelly
Gentleman's Fate (7-Mar-1931)
The Easiest Way (7-Feb-1931)
· Peg
Our Blushing Brides (19-Jul-1930)
Free and Easy (22-Mar-1930)
Navy Blues (13-Dec-1929)
Our Modern Maidens (24-Aug-1929)
· Kentucky Strafford
The Hollywood Revue of 1929 (14-Aug-1929)
· Herself
The Broadway Melody (1-Feb-1929)
· Queenie Mahoney
The Flying Fleet (19-Jan-1929)
· Anita Hastings
While the City Sleeps (15-Sep-1928)
Our Dancing Daughters (1-Sep-1928)
Official Website:
http://www.anitapage.com/